Benefits
Let your employees select their health insurance, retirement, and other benefits easily, according to their eligibility, and have their choices update your payroll system for the next pay run. In addition, the solution assists in managing ACA eligibility and reporting.
Eligibility
Setup eligibility rules so that employees see only what is available, when it is available.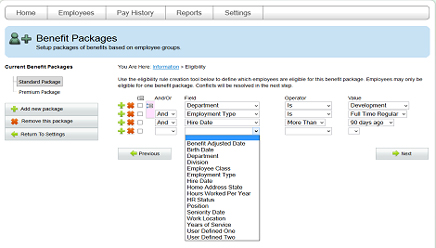 Health Insurance EDI
Generate industry standard EDI files for submitting electronic enrollment updates to health insurance providers.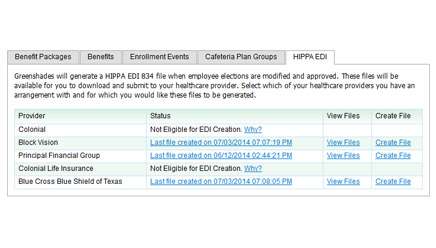 Affordable Care Act
Manage ACA eligibility and reporting requirements while easing your compliance concerns.
---
"We started using the Greenshades Benefits service module about a year ago. This service has helped us tremendously, it has allowed us to streamline our open enrollment process and eliminate piles of paper forms. The technical customer support we received during the implementation phase of the Benefit Module and during critical open enrollment deadlines was outstanding." - Blanca, Touchstone Communities